"I have used this for a number of years. You see a lot of other things on the shelf,
but there's nothing like this. I tout it to all the garden centers around and to my
friends with mosquito problems. I want to thank you folks for making such a
good quality product."
P. G., New Hope, PA
If you are a reseller or pest control professional, please contact us directly by phone at (800)424-7990 or by clicking here for dealer pricing when reordering Mosquito Barrier products.
---
Available in two sizes - Gallons & Quarts!
Choose the size that is right for you. Mosquito Barrier is available in Gallon and Quart bottles. We even have a convenient Twin-Pak of quart bottles. The quart bottles contain the same full strength Mosquito Barrier that is in the gallon bottles. A gallon of Mosquito Barrier will cover 5 acres. Each quart will cover 1.25 acres. One quart of Mosquito Barrier may be enough for the average lawn for the entire mosquito season.
One Gallon Covers 5 Acres!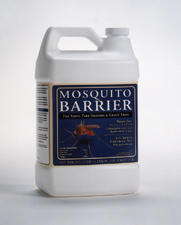 $84.95 per gallon, includes shipping and handling costs*
(10% discount if you order 4 or more gallons)